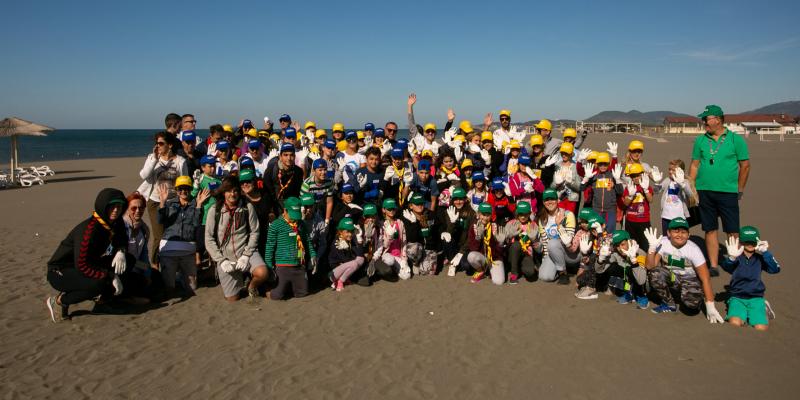 Marine Litter Coastal Clean up Event - Montenegro
Overview
On the occasion of the International Coastal Clean up Day, Public enterprise for coastal zone management of Montenegro in cooperation with Institute of Marine Biology, within the Interreg IPA CBC Italy-Albania-Montenegro project "WELCOME", organized "Marine Litter Coastal Clean up Event". This event was held on Saturday - September 21st , 2019 at the location – "Giovanni beach" on the Velika plaža in Ulcinj – Montenegro. 
During this action, a total of 279.5 kg of waste was collected, of which - 96 kg of wood, 78 kg of plastic, 39 kg of glass, 26.5 kg of metal and 40 kg of other waste.
More than 100 volunteers from JU OŠ "MARŠAL TITO" – ULCINJ, NVO "Književna omladina Tivta", NVO "Dramski studio Budva", Izviđački Odred "24. novembar" iz Bara, NVO "GreenNet – ZelenaMreža" iz Budve, Giovanni's Beach Montenegro and volunteers registered at Zero Waste Montenegro participated in this action.
Before the clean-up, the participants were instructed on selective marine litter collection by categories, and divided in 3 teams (blue, green, yellow) to compete in collection of litter. After the clean-up, the workshop on creative marine litter recycling was organized, followed by the performance "The sea and plastic". At the end, the results were announced, and the prizes were given for first, second and third place in the marine litter collection competition. 
During this action, participants had the opportunity to socialize, compete, entertain and educate about marine litter, which has become increasingly prevalent in recent years, as well as cleaning, selective collection and recycling of marine litter collected from the beaches.
We would like to thank all participants for their contribution and hope you had a good time. It was our pleasure to spend time with all of you!