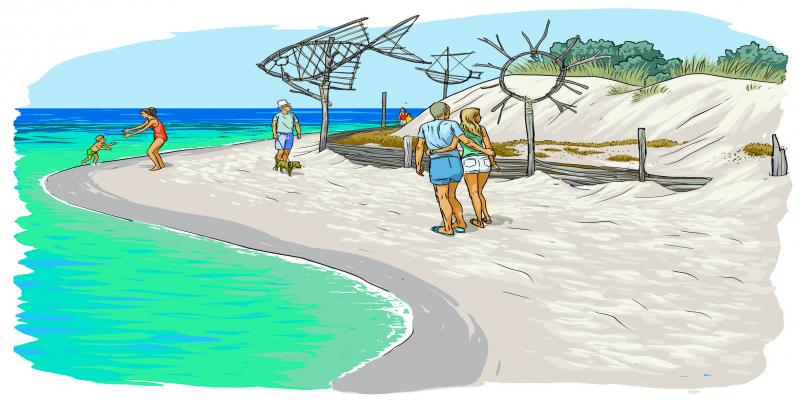 Call for design and implementation of art-driven reuse of wooden marine litter
Overview
WELCOME project is looking for artists, architects and/or environmental engineers who are actively engaged into design and implementation of artistic installations acting as sand fences and dune stabilization systems.  
The WELCOME project is mainly aimed at developing a soft method based on an art-driven reuse of wooden marine litter to make anti-erosion coastal systems in a sustainable, circular economy-based approach. Purpose of the contest is to define a working protocol of artistic waste recycling and recovery techniques for the reuse of beached vegetal biomass (mainly drifted wood and Posidonia oceanica phanerogam debris) in dune system management.
The Municipality of Lecce has just published this call aiming to produce dune anti-erosion soft structures and art installations using the technique of naturalistic engineering developed by reusing the natural components of the Marine Litter, to be positioned on a stretch of San Cataldo (LE) coastline. 
This is one of the activities foreseen by the project WELCOME (Dune restoration, competition for marine litter reuse) funded by INTERREG IPA CBC Programme Italy-Albania-Montenegro.
Interested participants can read the call and the related attachments on the website of Municipality of Lecce https://albopretorio.comune.lecce.it/albo/detail.jsp?otype=1027&id=474319&type=Bando%20di%20Gara&siteid=103795
The package containing the project proposal and the administrative documentation must be sent anonymously to the following address: COMUNE di LECCE – Ufficio Protocollo – via F. Rubichi n.16, 73100 Lecce (LE) Italy. Competitors are allowed to hand-deliver the package at the same Protocol Office. In this case too, anonymity must be guaranteed.
The deadline to submit the application is 30 August 2019 at 12:00 am (Italian time, UTC + 1)
For further information, please send an email to the following address:
ATTACHMENTS